By: Rachael McKeon
Why Visit a Vineyard? Whether you're a natural wine expert or a complete novice, visiting a real-life, small production, biodynamic vineyard is eye-opening. All the questions about, you know, how wine is made flood your frontal lobes. Do you need to be an expert to pick? Not really. How do they know when to harvest the grapes? They just know. How long do the grapes macerate in the barrels? Depends. Without chemicals and pesticides to guarantee the harvest, do vintners stare at the sky and stress maniacally about climate change? Yes, 100%.
You realize a few things, like…winemaking is insanely hard work! It's science-meets-nature. It's chafed hands moving at lightning speed through the vines. It's mixing, and mulching, and experimenting crazy professor-style. And for these brave, small producers, it's a high-risk labor of love. When it comes to biodynamic winemaking, nature is the boss. There are zero guarantees, and each bottle is extraordinarily special.
Each tiny vineyards is outrageously scenic. To visit, walk the land, pop a warm grape straight off the vine into your mouth, and sip with the makers is a rare window into rural Tuscan life. If you can, get in touch, rent a car with a trunk large enough to stash a few cases, and go.
Let's Go…
So, you've feasted on all the Bistecca Fiorentina your molars can handle, your feet know every corner of the Uffizi, but your palette is kind of Chianti'd out. Florence is a charmer, but it's time to hit the road. For the natty wine lover, the city's myriad trattorie can be tough to negotiate, and often the bigger, more commercial Tuscan producers dominate the list. However, a short drive beyond the city gates you'll find a host of quirky, dedicated-to-biodiversity producers making natural wine the right way.
To kick off Rock Juice's Tuscan natural wine tour, you'll need a car with adequate trunk space for a few cases and, ideally, air conditioning—summer in Tuscany is steamy. Our route takes you North to Lunigiana first, right on the border of Tuscany and Liguria. From then on, it's South all the way to wild, untouched Maremma. Each producer is united by a deep reverence for the earth and love of low-intervention wine that best expresses their area's terroir. These wines are not about uniformity of taste, it's about letting nature lead the way. 
Start the Car
Head North (do yourself a favor and take the coastal route) to blink-and-you'll-miss-it Castel Del Piano. After ten minutes winding down dirt roads, you'll come across a dog who looks like he's waiting for you. And he is—follow him. Around the corner, a medieval castle swings into view (you can stay here!), the smell of something warm and yeasty floats over the wall, and you know you've made it. Sabine and Andrea—partners in life, wine, and work—run this rustic slice of heaven. From the second you sit down with them, you can tell their approach to life (and wine) is led by instinct. Castel Del Piano is infused with this couple's earthy touch, or maybe, it's this hidden slice of wildland that's infused them. The kind of place where you show up and Sabine pulls focaccia hot out of the oven, where they open every bottle to taste and laugh together often. After several glasses, you figure it out: these two are total renegades who make around 15000 bottles of funky, absolutely natural wine their way.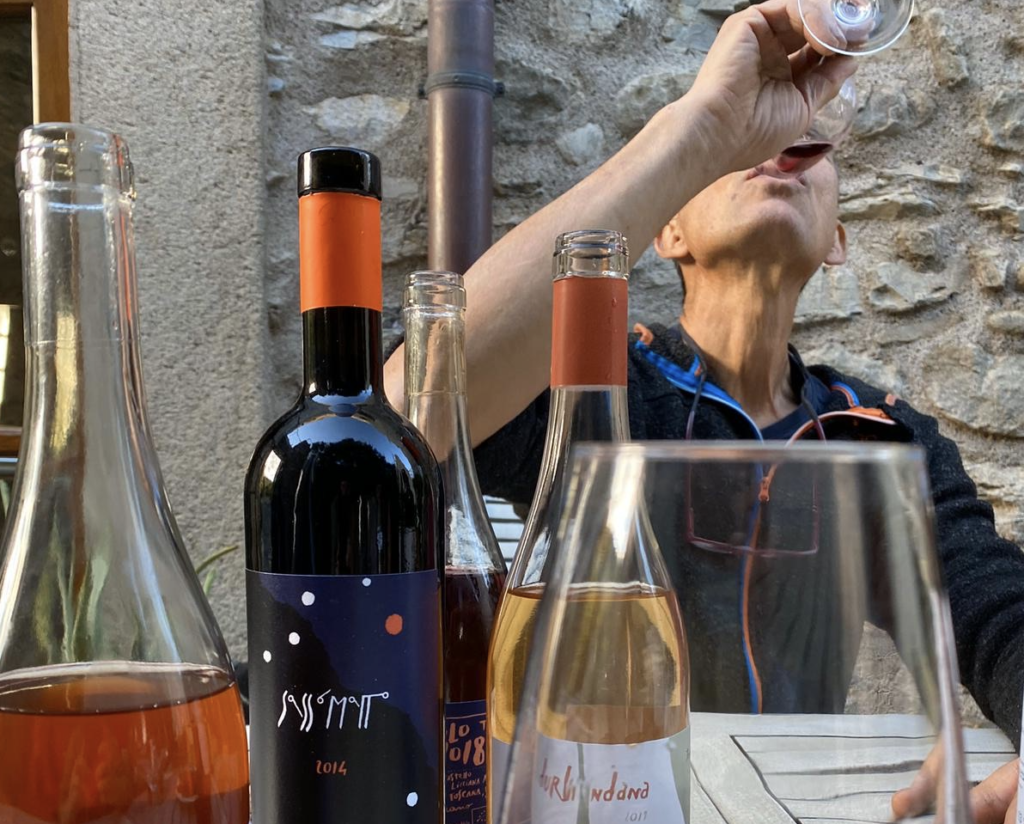 Every inch of the compact 2.5-hectare vineyard was planted and strung by Andrea and Sabine, and somehow, they produce a whopping nine wines from their yield—all fermented and aged in a small cellar at the entrance to the plot. Tuscany goes big on red wine, but this is your chance to taste deeply complex white and orange wines, made with little-to-no intervention and zero irrigation.
The land here is rocky, and a river flows along the property's edge. Andrea wants the vine roots to burrow deep for water, enhancing the complexity of the fruit. We loved the vibrant "Clarè" rosé made from Canaiolo grapes—this is one to chill and drink on its own to really appreciate its hard-to-pin-down light red flavor. Their sparkling "Luna Lies" Vermentino Nero embodies all the taste of summer stone fruits in a bottle. Andrea is adamant about cultivating local-to-the-area vines, and each bottle bursts with the terroir of this tiny, off-the-grid spot that's a total hidden gem. Stock the trunk on-site, Castel Del Piano wines are near-impossible to find. 
Sleep in Florence and plan to pull up at Podere Casaccia in nearby Scandicci for lunch.
Everything—and we mean everything—at Podere Casaccia is touched by Roberto Moretti's precise, discerning hands, even the bottle labels. When I ask Roberto about his elegant "Sine Felle" labels, he lights up. Sine felle is a type of bookplate dating from the late 1600's and was unearthed in the property's cellar. The literal translation "without bitterness" could not be more apt for Podere Casaccia—some of the smoothest organic, biodynamic wines around. Roberto and his partner Lucia's view of organic extends far beyond the vine. Poltiglia bordolese or sulfur is the only treatment agent used to protect the grapes. (It's entirely natural, doesn't absorb, and washes right off in the rain.) Protecting his precious fruit from pollution extends from the stringing and planting with wood and nylon only (no zinc or iron allowed) to the air (there's zero electro-static pollution).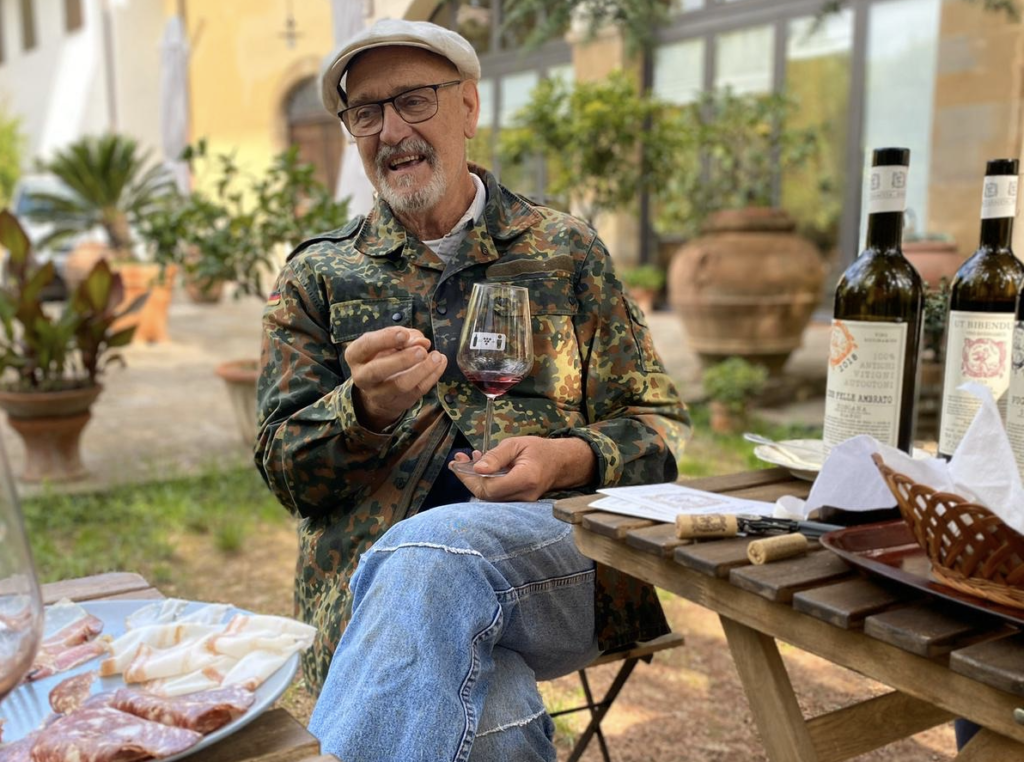 Our experience went like this: After a tour of the olive-tree-and-vine-strewn hillside and few sips straight from the barrels in the cellar, we descend on the patio to taste, nibble, and get to know each other. Before cracking several bottles open, Roberto presents a few plates of meats he cured himself (of course!) doused in olive oil and nutmeg. We tear at the bread and tuck in. A former actor, he and Lucia locked eyes in Florence. Cut to years later, the duo tends to this biodynamic hillside and imbues every detail of their operation with their earthy personalities. Podere Casaccia's wines slide down your throat. Dedicated to strictly native vines like Pugnitello (little fist) and Canaiolo, Roberto hates barnyard funk. Well-rounded natural wine takes time. It's worth the wait.
Next up…Cosimo Maria Massini in San Miniato.
Cosimo Maria Massini's cypress tree-lined drive is as storybook as Tuscany gets. There's an almost regal, old-world feel to the place—which makes sense, given the property is so old it was once owned by the Bonaparte (as in Napoleon) family.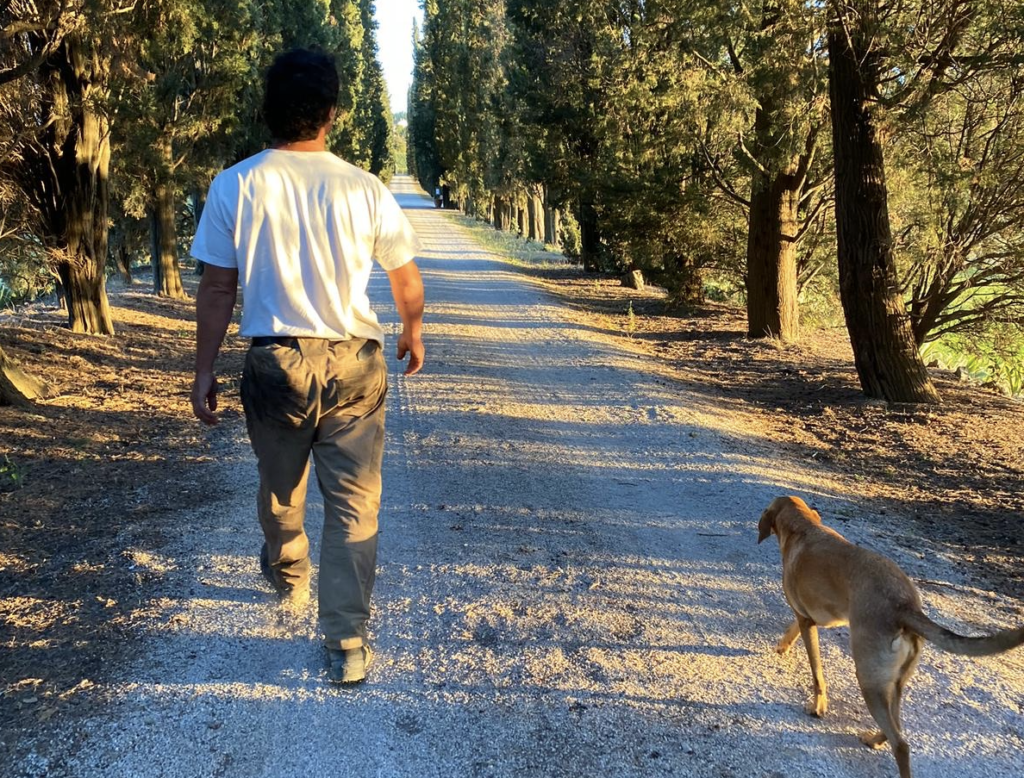 Try to schedule your visit in the late afternoon. The light sinking behind the vineyards and surrounding hills casts the whole property in sharp, romantic relief. Plus, this time of day feels right for a hearty aperitivo of wine and local cheese. Currently owned by the Massini family, the lead vignaiolo here is Francesco De Filippis. With a Ph.D. in agricultural science, Francesco is dedicated to Steiner principles on biodynamic vinification. Every action here is as low-touch and close to the earth as possible.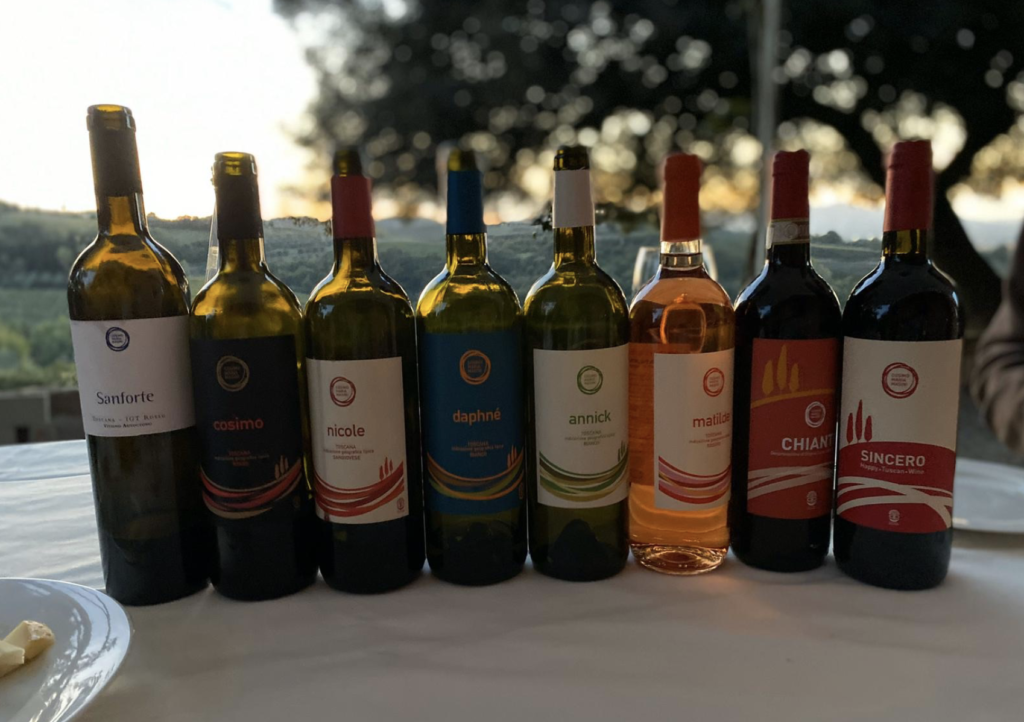 Once we hit the cellar, the sweet, earthy scent of spontaneous fermentation wafts over you like a peaty cloud. Francesco opens up a few barrels and actually invites us to punch down the steeping grapes (harder than it looks!) while giving us the grand tour. As with the other wineries on this tour, once you get a peek behind the scenes, you realize what a delicate, all-consuming, and frankly physical process it is to make low-intervention wine. 
Enter Chianti Country…
Querceto di Castellina is a swish operation deep in Chianti country. Operated by the Di Battista family for over two decades and certified organic since 2012, this small vineyard is the kind of place you want to stay awhile in. And you can—schedule at least two days at this Tuscan Eden. Dump your bags in the restored 15th-century cottages, your kids (if you have them) in the pool, and settle into the patio for a lengthy tasting with Mary, the delightful American wife and right-hand woman of owner Jacopo Di Battista.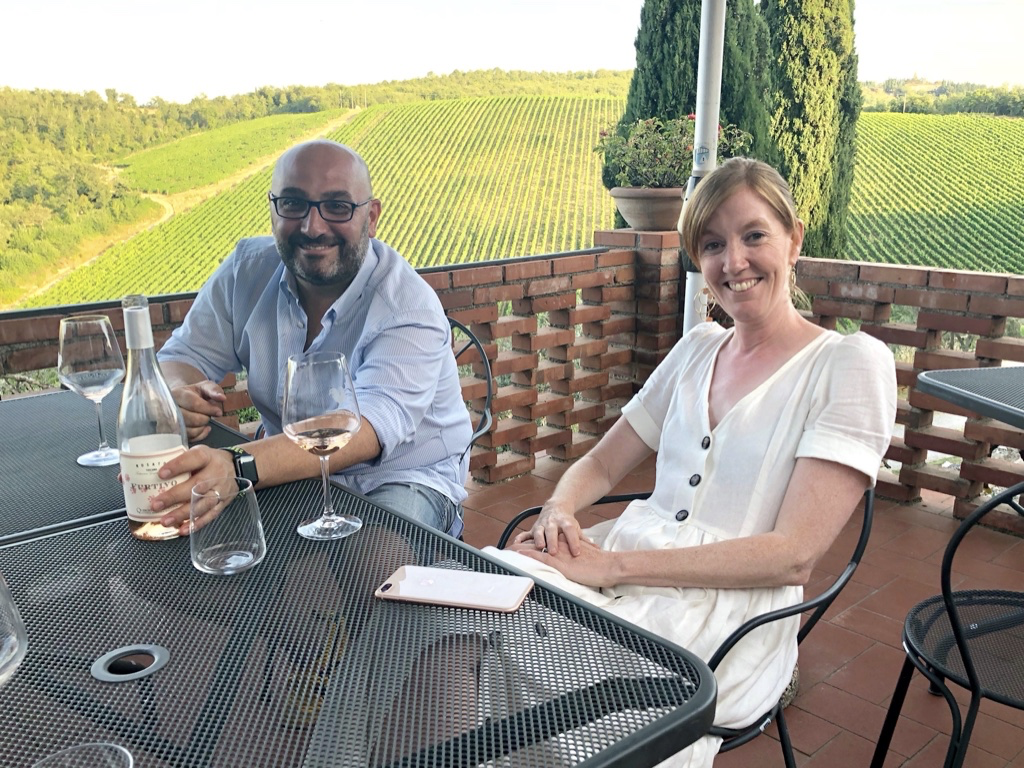 In the high summer, Querceto's sneakily delicious and aptly named "Furtivo" rosé goes down all too easily. This Sangiovese smells like roses and coats your tongue—you still taste it long after finishing. The Di Battista's are famous for their Chianti Classico, and while everyone vintner in Tuscany makes this clean, Querceto's Chianti is legit. Lighter than most, insanely drinkable-crack a bottle of this when the sun starts to dip. You cannot leave with trying (and buying) "Livia" the only Loire-inspired Viognier/Roussanne blend made in this region. "Livia" is the most complex, rich, can't-stop-sipping-it natural white we have ever tried. Stock up on wine, peppery olive oil, and Mary and Jacopo's phone numbers before leaving—you'll be back. 
Further South…
You've made it to Maremma, the most wildly beautiful, totally untouched coastal region of Southern Tuscany, and…to Ampeleia. The setting of this Elizabeth Foradori and friends-owned vineyard is extraordinary. Overlooked by an ancient rocky town built on a volcano's edge and hugged by the sea, a few hundred meters below. But it's the people who run the place that stay with you the most. Head vignaiolo Marco Tait and export manager Francesco Pascucci are two of the most welcoming, obsessed-with-wine Italians you'll ever meet. A visit here is like taking a masterclass in biodynamic viticulture. Animal bladders stuffed with herbs and wildflowers, cow horns filled with organic mulch, and pressed-into-juice herbs all get scattered at the base of the vines to nourish the earth with what's already there. Only a small percentage of the property is allocated to vines. The rest is saved for the cows, the bees, the olive trees, and wildflowers to encourage this biodiversity that gives the terroir such a unique flavor.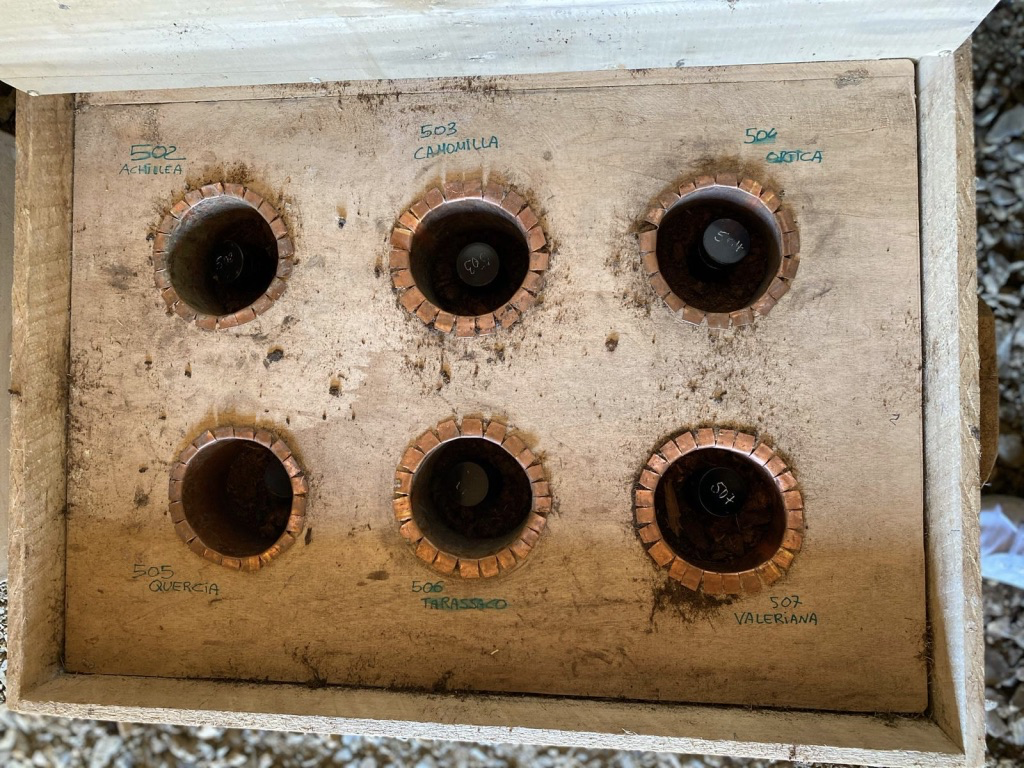 After an hour or so climbing up and down the steep terraces that tumble toward the sea (this unique terrain and microclimate are exceptional for vines), you'll settle in for a tasting. Ampeleia's wines taste like a party you want to go to: bursting with pure flavor, casually drinkable, with a few surprises. Their "Cabernet Franc" is the hero, followed by the "Alicante"—two bottles you never expect to find in Sangiovese-obsessed Tuscany. Don't leave without a bottle or two of "Unlitro" a literal liter of Alicante Nero/Carignan blend made extra-large for sharing with friends.